This post is one of the ten in Vibrant Homeschooling's Fabulous Family Movie Nights series. Click here to see the other movies featured and be inspired to plan an interactive learning experience through movies with your family this summer!
"Never judge things by their appearance…even carpetbags. I'm sure I never do." – Mary Poppins

Mary Poppins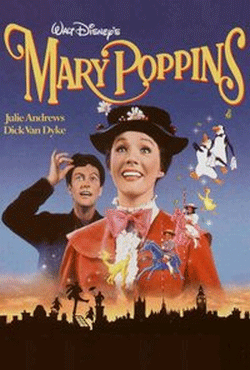 is the story of a magical nanny who comes to London in 1910 to take care of Jane and Michael Banks. Children of distant, disengaged banker, Jane and Michael have learned to entertain themselves, often resulting in slightly rebellious behavior. Poppins' stern but loving approach, as well as her use of magic and daft humor, not only brings some happiness into the children's lives, but eventually transforms the entire family.
Filled with many vibrant choreographed song-and-dance numbers as well as some Disney animation, Mary Poppins was awarded multiple Oscar, Grammy, and Golden Globe Awards. Movie critic Jürgen Müller calls it Walt Disney's "crowning achievement."
The movie is loosely based on the book with the same title by P.L. Travers.
Mary Poppins Family Crafts
Mary Poppins & Bert Silhouettes – With cardstock, scissors, and a craft knife, you can decorate your home with these Mary Poppins-inspired silhouettes.
Mary Poppins Bookmark – With cardstock, scissors, glue, and ribbon, this Mary Poppins bookmark is fun to make and use (and you can place it in your Mary Poppins book if you choose to read it aloud to your kids).
Let's Go Fly a Kite – Throughout the film, the children desire to make and fly their own kite, which their father finally helps them do at the end (to the tune of "Let's Go Fly a Kite"). Make and fly your own kite, choosing from many designs.
Sidewalk Screever – In the film Bert describes himself as a screever "of 'ighest degree"—a screever is an artist who draws on sidewalks using chalk. Get sidewalk chalk, find a large piece of pavement or sidewalk near your house, and draw scenes from your own memory.
Have a Tea Party (but not on the ceiling) – Show your kids what an authentic afternoon English tea party looks like. When the British have afternoon "tea," this is not a reference to just what they are drinking (though tea certainly is involved) but a light meal, typically served in the late afternoon. Foods typically served include sandwiches (cucumber, egg, smoked salmon, or ham), scones (with jam and clotted cream), and pastries like Victoria sponge or fruitcake. Looseleaf tea should be made in a kettle and served with cream and sugar. Get as fancy as you want. Teach your children English tea etiquette like how to put their pinkies up and where to place their spoons.
Conversation Questions
The film Mary Poppins is filled with many discussion-worthy scenes and characters:
1. What valuable lessons does George Banks learn at the end of the movie? What helps him to understand these lessons?
2. While Mary Poppins describes herself as "practically perfect in every way," in what ways is she not perfect?
3. The scene with the Bird Woman is a major turning point in the movie. She is poor but trying to make a living selling breadcrumbs. Her life is contrasted with that of the rich and powerful men at the bank across the street. How is does the Bird Woman more like Jesus than the bankers?
Mary Poppins Resources
1. Read the whole series to your kids.
The books have some stark differences to the movie, but they are the origin of the Mary Poppins stories. You can buy the whole collection of Mary Poppins books in one volume.
2. Watch Saving Mr. Banks.
Saving Mr. Banks is a film about how the Mary Poppins books were adapted to film. Starring Tom Hanks as Walt Disney and Emma Thompson as P.L. Travers, the movie shows the humorous and often conflicting relationship between the book author and the multimillionaire filmmaker. This film would be fitting for teens. (See the PluggedIn review of the film first.) In addition, your kids can read up on both the accuracies and inaccuracies of Saving Mr. Banks.
3. See the musical as a family.
In 2004, Walt Disney Theatrical produced an on-stage version of the Mary Poppins story, combining elements from the film and the books. My family has seen this musical live twice now, and we loved it.
Disclaimer: Since each family makes their own determination about which media content is suitable for their individual family members, parents are advised to preview the movie themselves before watching. Some movies may have content not suitable for the youngest audiences. Neither Vibrant Homeschooling or guest authors in the series will be held responsible for content that your family may or may not deem appropriate in these movies.