Looking for some great ways to enjoy Thanksgiving with your family (or maybe you'd just like to teach your kids thankfulness)?
Awesome! Then you've come to the right place!
 You'll love this list of simple Thanksgiving crafts for kids, plus a list of great Thanksgiving books for kids, awesome Thanksgiving activities (including a Thankful Tree printable) and even links to free Thanksgiving Bible lessons that teach your family the importance of gratitude.
I've divided this list of Thanksgiving crafts for kids and other Thanksgiving activities into the following categories:
Free Thanksgiving Bible Study for Kids
Best Thanksgiving Books for Kids
Thanksgiving Crafts for Kids Printables
Thankful Tree Printable & Other Thankful Tree Craft Ideas
Other Easy Thanksgiving Crafts for Kids
Random Acts of Kindness Ideas for Thanksgiving
You'll love how all the items on this list will help your family cultivate a thankful heart during the Thanksgiving season and celebrate the joy of giving thanks!
Free Thanksgiving Bible Study for Kids
So many of us want to teach our kids to give thanks during Thanksgiving, but honestly, I found only a few Thanksgiving Bible studies for kids. It turns out that, unfortunately, Thanksgiving Bible lessons are in short supply.
That's why I created these free Thanksgiving Bible lessons for kids and adults!
These free Thanksgiving Bible study lessons are an awesome way to discover what God says about giving thanks, and they're perfect for families with kids of all ages.
DOWNLOAD THE FREE THANKSGIVING BIBLE STUDY FOR KIDS HERE.
Best Thanksgiving Books for Kids
Here are some of our family's favorite books on giving thanks! These awesome Thanksgiving books for kids are well-worn in our home because we read them each year as part of our fall family activities.
The Berenstain Bears Count Their Blessings
The Thank You Book (An Elephant and Piggie Book)
Thankful Together
In November
The Berenstain Bears Thanksgiving Blessings (Berenstain Bears/Living Lights)
Thanks for Thanksgiving
The Blessings Jar: A Story About Being Thankful
Peanuts: Be Thankful
The Berenstain Bears Give Thanks (Berenstain Bears/Living Lights)
Ready for some easy Thanksgiving crafts that your kids will love to make?
You'll love these fun Thanksgiving craft ideas I've gathered from some of the most creative moms on the web, including Thanksgiving learning printables and so much more (including a Thankful Tree printable and other Thankful Tree craft ideas)!
Thanksgiving Crafts for Kids Printables
These Thanksgiving printables are a great addition to your family's fall activities, whether you're homeschooling or not!
Thankful Tree Printable & Thankful Tree Crafts
Does your family make a thankful tree craft? Ours does every year and it's always so much fun!
As you'll see below, there's lots of different ways to make one, but here's the basic idea: Create some sort of a tree backdrop and then add leaves to the tree throughout the Thanksgiving season (with some sort of "I'm thankful for…" sentiment on each leaf).
P.S. Want to make it really easy to put together your Thankful Tree craft? Check out this post from I Heart Naptime for a free Thankful tree printable!
Here's some wonderful inspiration from other moms for your Thankful Tree craft!
I love this upcycled thankful tree from One Creative Mommy made out of brown paper bag packing material!
Apron Strings & Other Things uses handprint leaves on her Thankful tree.
The beauty of this Thankful Tree from Gabrielle Daigle is in its simplicity. It only takes 20 minutes to make!
I really like this Thankful tree from Mama's Happy Hive that uses Thanksgiving Bible verses (along with a countdown calendar) to help kids remember all the wonderful promises of God we can be thankful for!
Speaking of Thanksgiving Bible verses, don't miss this post on the site with over 30 Thanksgiving Bible Verses that would be perfect not only for a Thankful Tree but also for Thanksgiving dinner!
Other Easy Thanksgiving Crafts for Kids
This adorable DIY Thankful Turkey Journal Project from Arts & Crackers creates the cutest pop-up turkey–out of a child's handprint!
Speaking of turkeys, JDaniel4's mom uses the "thankful items" as feathers to create a Thanksgiving turkey! Very clever! (Royal Baloo has another "Thankful Turkey" version here too!)
Or how about this creative re-use of a tissue paper box? I Heart Crafty Things shows us how to create an adorable turkey with a place to store all our thanks!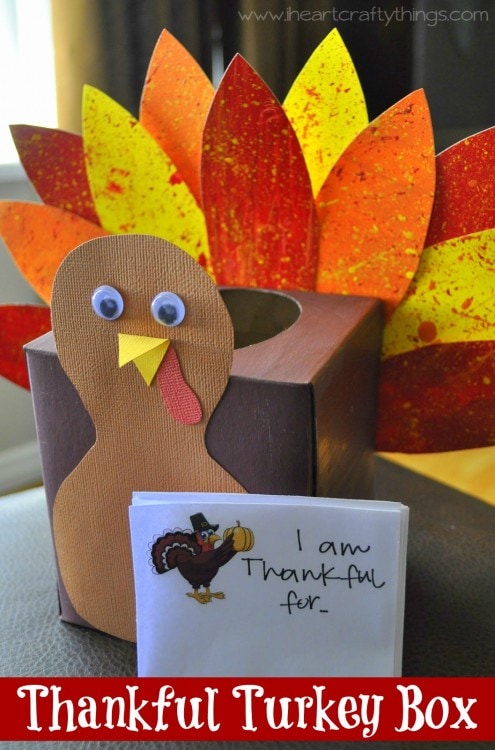 You'll also love Handmade Kids Art's fun way to transform a cork board into a Thankful Turkey!
And Red Ted Art's tiny turkey full of big thanks–made from an egg carton–is too cute for words!
This lovely DIY Gratitude Board from Maggie May's can easily transition from the Thanksgiving season to everyday use!
Here's a simple but powerful Gratitude Garland from Mosswood Connections.
A Thankful Book! Yes! What a great idea from Mama's Happy Hive! All of my kids would love making these!
Thankful Jars are also another great way to encourage kids toward a grateful heart during this season. Here's one from Buggy and Buddy.
And this Gratitude Jar from Living Montessori Now which is a craft that families put together all year and then reveal on Thanksgiving!
Buggy and Buddy also created this adorable "I Am Thankful For" Story Window craft! Love!
The Diary of a Frugal Family makes it super simple by having her kids place post-it notes on their bedroom doors about what they're thankful for.
How about helping your kids write their own Thanksgiving Psalm? A fun idea from A Nest In The Rocks!
Speaking of writing, Planet Smarty Pants created this fun Gratitude Game!
Or you and your kids could try your hand on writing an acrostic poem! Royal Baloo created these after reading the book Bear Says Thanks.
Your Thanksgiving guests will love these personalized Gratitude Turkey Placemats from Mama's Happy Hive!
Thanksgiving is also a natural time for kids to learn about giving back to the community.
Check out these fabulous Thanksgiving-inspired Acts of Kindness and Service Projects!
What a great way to put "giving thanks" into action!
Random Acts of Kindness Ideas for Thanksgiving
Our family has done a 30-day Acts of Kindness Challenge for several years now and there are many ideas there that would inspire Thanksgiving service project ideas! Check out all the ideas here.
And I've also gathered a list of 67 awesome Random Acts of Kindness ideas for kids! It's one of my most popular posts of all time!
This Gratitude Garage Sale from The Educators Spin On It is a fantastic idea that all of us could easily implement! Bravo for this practical way that kids can help those who are hungry!
Or how about these other awesome service project ideas?
Count Your Blessings Service Project from Inspired Academy Homeschool
30 Service Projects for Families from KC Edventures
12 Months of Family Service Projects from Every Star Is Different
Other Posts with Fall & Thanksgiving Crafts for Kids
How to Teach Your Kids the Pumpkin Prayer (Free Printable)
Free Thanksgiving Bible Lessons for Kids & Adults
35 Awesome Thanksgiving Bible Verses to Share with Your Family
And of course, you'll want to grab the free 5-Day Thanksgiving Bible Study printables!

Did you love all the great thanksgiving crafts for kids in this post? Please pin or share this post with others so that more children can enjoy thanksgiving crafts!
SaveSave
SaveSave
SaveSave